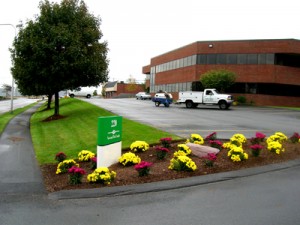 Preferred Landscape Services, LLC is uniquely qualified to provide commercial services for your business and we will become your eyes and ears on site. One of your company's major investments is your property and facilities. Improving the appearance of the property will improve the image of your company. Let us help you achieve a new look or maintain the one you have. Preserve and enhance your investment!
Preferred Landscape specializes in all your needs for your business, hotel, motel, apartment complex, condo community, Church, or school. We can do a one-time clean up or re-landscaping to improve your office's curb appeal. Our goal is to provide you with excellent service. Our regular lawn maintenance includes: mowing, edging, weeding, and hedge trimming. We also offer mulch, bark, annuals, decorative rock, gravel, plant installation, and season clean-ups.
Playgrounds are an important part of your Day care, school or Church property. If you need to have your playground mulched or just want to use pine bark chips and any other mulch products, we can help you get it done ASAP. If need be, we can do after hours installations so that you don't have to be worried about us working around the children. Whether it's a small truck load or full size semi-truck of mulch, we can arrange it.
The professional image of your company will be improved for your visitors and/or prospective tenants. Your employees and contractors who work in your facilities will enjoy a more pleasant and attractive atmosphere.
Our reliable and dependable crews will provide prompt, courteous, and professional service.